Jeanks aka Enti Rainbow is a rising star 100% made in Panama.
A firm believer in the healing power of music, Jeankarla grew up in a country where electronic music was extremely rare if not non-existing.
Nevertheless, she inherited a great sense for rhythm and musical harmony through her Latin roots.
It was only in Argentina, where she was introduced to the Progressive movement, that her musical creative journey began.
Finally, In 2011, Jeanks started performing on the local music scene, quickly progressing up to becoming a rising star in Panama.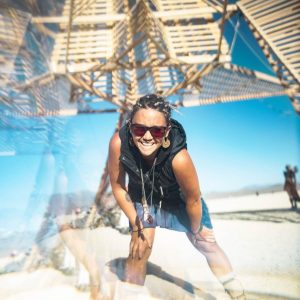 In the years, her dazing talent and insatiable curiosity for music brought her to experiment different sounds and genres.
Her style is quite varied, focused mainly on Downtempo and Deep House yet influenced by Organic and Progressive sounds.
Throughout her career Jeankarla performed at numerous festivals: from Tribal Gathering to Sonica Venao, up to Burning Man.
Today, Jeanks is part of the Sonica Venao resident team and Resident Dj of El Sitio in Playa Venao.
It is here, where you can find her, living on a beautiful beach, healing souls through her sounds and her contagious smile.
We are therefore quite excited to launch the latest Good Vibe Music Editorial: Good Moon.
Dream away through this harmonious Full Moon Story by the expert Storyteller Jeanks.
GV Team