And she's here to stay
The first time you meet her, you can tell straight away she's a special soul. Sammer, beautiful inside and outside, is a very special soul with great talent.
Born in Sofia, she started working between Italy and Bulgaria at a young age lead by a modelling career but music came along and her life changed forever. Today she lives between Tulum and Europe and there is little doubt that life has amazing things for her.
Read on to get to know more about the fascinating rising star.
How long ago did you start playing? What was it born from?
In 2016 I ended up in Ibiza with friends, I had visited the island on a summer holiday but I had never been to party. One night, I ended up at Tale of Us' Afterlife party at Space, and was immediately blown away! Something changed inside of me, it completely overwhelmed me.
I had no technical knowledge about electronic music, I just liked it but that night at Afterlife I cried of emotion as I watched people dance and fly with melancholy. I realised how profoundly touching music festivals can be and decided to actively take part in it.
 I thought  "I want to be able to do this", learn to convey these kinds of emotions.
I told my parents only much later on, and even though my mom doesn't explicitly regard music as a serious career, she's always supported me.
So a passion turned into a profession…
Being very critical of myself when it comes to music, I only started playing because I had the "approval" of people who had been in the sphere for way longer.
From the very beginning I received the "go" from people I looked up to and that motivated me to keep on working.
I've always been connected to music since I was little and, luckily for me, learning how to play and acquiring a technique was a lot easier than what I was first told. It just took me a little bit of practice.
So far, what is your most magical memory of a live set?
The Mexican festival Soy Ser, 3 years ago in Valle de Bravo – an enchanting place and production – I was playing on the silent stage in the middle of an island in the middle of the lake – surreal …
In terms of other artists' sets, I think the set of Tale of Us at Time Warp set of the same year first saw them in Ibiza is one of the best sets ever recorded.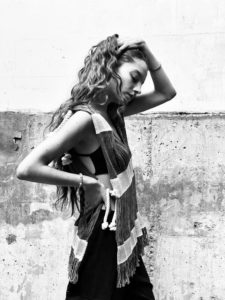 You also have a modeling career. How do fashion and music relate for you?
I've actually stopped modeling for almost a year now. I only work for friends' brands or collaborations, but fashion is no longer my main focus. Surely though, it was my path as a model to lead me to the music environment I fell in love with.
How much do your Bulgarian roots affect your music?
Some of the tracks I'm working on include Bulgarian folk vowel motifs. I like the mysticism of our mountains and the use of typical tools such as gajda. I surely bring bits of Bulgaria with me.
Definitely you carry the mesmerizing beauty of its people. How does being a pretty woman impact your musical experience?
Ufff, it's a painful question! Being a girl at this early stage of my DJ career still affects my experience 90% of the time.  If people happen to hear me, then they want to book me, but if I send out a set of mine to for people of the industry to hear in order to get them to know me, the likely will never play it.
Half of the time they won't listen to my music, just because I'm a girl. The other half of the time I get booked just for because I am a girl.
And usually it's for a line up, far removed from my type of music where I don't really fit in. It is all experience that I am grateful to have in the beginning, but sailing through this industry as a girl is still difficult. I hope that after the release of some music things will change little by little …
2020. Would you do it again? What has the pandemic brought you?
Absolutely – it wasn't that unbearable for me. I was lucky to have a house and food even if I didn't work much during the pandemic. I think the virus has given us all a good lesson, but unfortunately only few have understood it…
What are Sammer's plans for the future?
In the next few months I will finish my first tracks! I am very excited to think about the direction my career will take after these productions. On the long term, my plan is to always look ahead, to be working consistently but without much haste.
I wish to become so skilled to safely play live in public, and get so skilled I can convince my favorite artists to collaborate in our genre.
I obviously would love to collaborate with Afterlife. But in a later future. I'd like to work with Innervisions, Stil Vor Talent, Diynamic between others.
Personally in life I will keep pursuing peace and happiness, and hope to be able to share it with everyone I encounter.
Now that surely, like us, you've bein intrigued by this amazing girl, enjoy our latest Full Moon Editorial: A Full Moon Sammer Night
August meets its Full Moon with joy.

Rhytym leads us to dance.

Summer nights give us hope.

Let's dream on.