And does Ahau
Born in La Unión, at the gates of Patagonia, Chilean Claudio Cadagan AKA Ahau is a rising artists, passionate about the power music can have to take care of life on earth.
He supports a Shipibo community in the Peruvian Amazon and aims at expanding the social value and reach of electronic music.
Scroll down to read more about this incredible human being, whose social work inspires us and whose music keeps up dancing to the rhythm of tribal percussion.
AHAU, represents the Mayan sun. Why did you decide to adopt this name?
It is my Kin Maya, which would be like the zodiac sign but in the version of the Mayan calendar that is much more complex. Yellow Electric Sun is the denomination but in Mayan language it is Ahau.
I adopted it because I felt very responsible for describing the sign and it somehow inspires me to express myself through music. The Sun is my father and everyone's hence the connection with him is obviously very strong.
Tell us on how music influenced your life.
In school I always took part in musical workshops but once they forced me to read music I got bored and preferred sports (which I regret that a lot). I played Basketball and Rugby until college.
My mother, though, always motivated me to dance and it through it I felt a great connection to music. How rhythm can move the body, is something that particularly captivates me since I was little.
Which have been your biggest musical influences?
Salsa and everything danceable Latin with strong Afro roots has always been my favourites. As a child, I had the "Proyecto Uno" cassettes and really liked the energy of that music. I was also captivated by Chilean folklore and the Afro essence it contains. Percussions are everything to me and they are the basis of the music I make.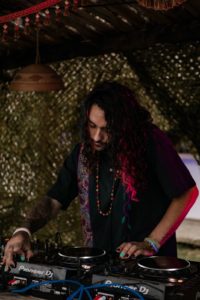 How did your electronic music journey begin?
I always enjoyed dancing and electronic music facilitates trance; anyone can dance however they please.
Living in Santiago, I started going to parties a lot and especially to follow Matanza, a band that created a whole musical movement in Chile. The fusion of electronics with organic sounds that connect with nature and the earth's energy drove me crazy.
I started collecting music until I had the opportunity to play it and share it with others.
If you could choose an artist to collaborate with, who would it be?
Difficult question really since I admire many artists. If I had to choose only one, it would be El Búho and his label Shika Shika. He inspires me quite much and I admire him for his projects that fuse music and caring for the environment.
Describe yourself in 3 words.
Love, Persistence and Transparency.
Describe your music in 3 words

Earth, Origins and Force.
Tell us about your musical creative process, what inspires you and the methodology you created
I think I have a good use of samples. I make the most of having the advantage of working with professionally recorded material and of being able to manipulate it to create something new in short time.
I constantly keep studying about Mixing so to polish my sound identity.
My methodology is quite simple and I think that thanks to the routine of my work I can specify ideas quickly. Mastering is something I prefer to leave to the engineers.
You have a full time job, play and performs social work. Your agenda must be very busy. What motivates you?
Passion. I am Creative Managing Director at an agency and I am passionate about leading a wonderful team of young creatives and my career as an artist.
Would you like to dedicate yourself exclusively to music?
Sure! But not only for creating music and playing it, but because I believe that music has unlimited power. I would like to generate a lot of money with Music to be able to help others and create virtuous projects around it and the culture in general.
What do you think about the current electronic music movement in LATAM? Do you think Latin artists deserve to have more visibility?
For sure. I think the industry is flawed in the same styles and as it works commercially, there is no interest in promoting new styles.
The scene that I am in at least in Chile is small and most of the people are always at the Techno, Tech House or Minimal parties. I have no issue with any music style but I would like  Line Ups to have way more sound variety.
What is the maximum goal you want to achieve with your music?
To be able to generate a real cultural contribution. I am developing a relationship with an NGO that works with communities in the Jungle and I wish to generate a network of support and collaboration through music.
A year ago, together with my musical brother Arkay we founded Tchamma Yapu, our record label and with it the idea of music as a bridge has been expanded. We hope for everything to evolve in the best way and do not rule out organizing our own parties and festivals.
So far, which was your favorite memory in your career as a DJ?
Without a doubt my last trip. I was 2 months in Mexico and 1 in Panama and they were wonderful experiences.
If I have to highlight one, I prefer the Spiritu Santa festival since it was completely a dream come true.
I shared the Line Up with great music references and I felt very comfortable with my performance, which is really rare because I am very self-demanding.
What lies in Ahau's future?
Keep studying and improving in music. Create my live set and continue developing the projects I'm in but above all, try to be happy with whatever I do.
Traveling is one of the things that I love the most in life and music helps to be able to do it so I hope to play in many places around the world.
My biggest dream would be to play on big stages but in order have greater visibility and take advantage of it for spreading  the message of love and respect for mother earth through the sounds of nature.
Now that, like us, you have been fascinated by this amazing artist, check out his Full Moon Music Editorial, Del Sol A la Luna